Why Nanaimo is THE Place to Live
Nanaimo is proven to be one of the most desirable places to live across Canada. The most recent census data shows that Nanaimo is one of the top 5 fastest growing metropolitan areas in Canada as a result of people from all over Canada relocating to Nanaimo. This has been fueled in part by the pandemic which has allowed people to work from anywhere and wanting to leave more population dense cities such as Vancouver, Calgary, and Toronto. This increase in people relocating to Nanaimo is confirming what we know with out 30 years of real estate experience; Nanaimo is the place to live for every lifestyle with an abundance of parks and wildlife as well as restaurants and local shops throughout the city. The range of properties available in Nanaimo give you the opportunity to make your new Vancouver Island life whatever you desire! Views in Nanaimo range from sea to sky no matter what community you settle down in, you'll realize how close you are to all amenities. The Island Highway and Nanaimo Parkway both run through the city to provide easy connections everywhere and connection to Vancouver is made easy with ferries to Horseshoe Bay and Tsawwassen, as well as sea plane and helijet service that takes you right into downtown Vancouver.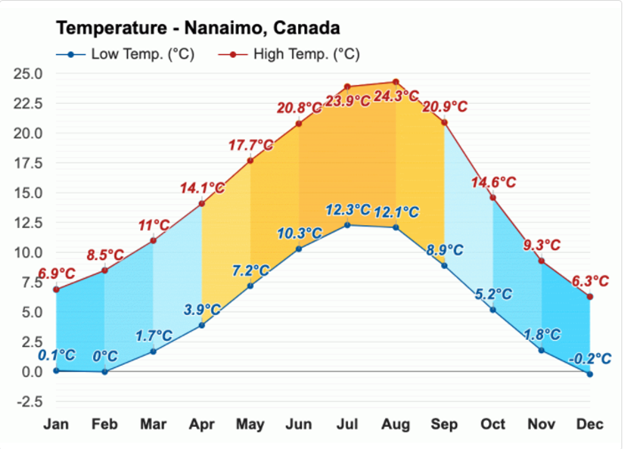 When it comes to climate, Nanaimo is tough to beat! Nanaimo's climate doesn't see the same extremes of other areas in Canada in terms of heavy snowfalls because of being so close to sea level. Average temperatures throughout the year in Nanaimo rarely drop below freezing, so when we do get snow, it is typically gone within a day or two.
This type of weather allows the residents of Nanaimo to enjoy what feels like an endless amount of outdoor exploration, ranging from beachfront walks to mountain hikes. Some of the most noteworthy destinations that any Nanaimo resident knows are Piper's Lagoon, Neck Point Park and Mount Benson.
Piper's and Neck Point are located in the Hammond Bay community and feature oceanside walking trails with views of the Georgia Strait as well as various beach accesses. Mount Benson is a Mountain hike with 360 degree views where you can see the ocean, mountains and vast forests of the area.
For more information on Nanaimo and the surrounding areas, fill out this form for a personalized guide to get started on what your Nanaimo life could look like!
Our Favourite Nanaimo Communities